You are here
Talent Development
Never give up learning
We want to help you become even better at what you do. For all positions with PageGroup we offer the best training and development the sector has to offer.
Working at PageGroup means you work for a large, well-known name in the sector in which you yourself can be an entrepreneur. Our recruitment consultants, managing consultants, associates and managers have talent and are involved and committed to becoming successful in their field. We want to support you in this as well as possible so that you can realise your potential to the full.
For each step in your career, from consultant to managing director, we give you the best training. Our Talent Development programme is consistently ahead of training developments in the sector. Relevant addition to knowledge, interactive training methods and best practices are central to this. At PageGroup you receive ongoing interactive group training with international colleagues, individual coaching and state-of-the-art e-learning.
Together we see to it that you continue to develop yourself successfully in the way that works best for you. Depending on the level of the position at which you join, you will follow a selection of the following training courses.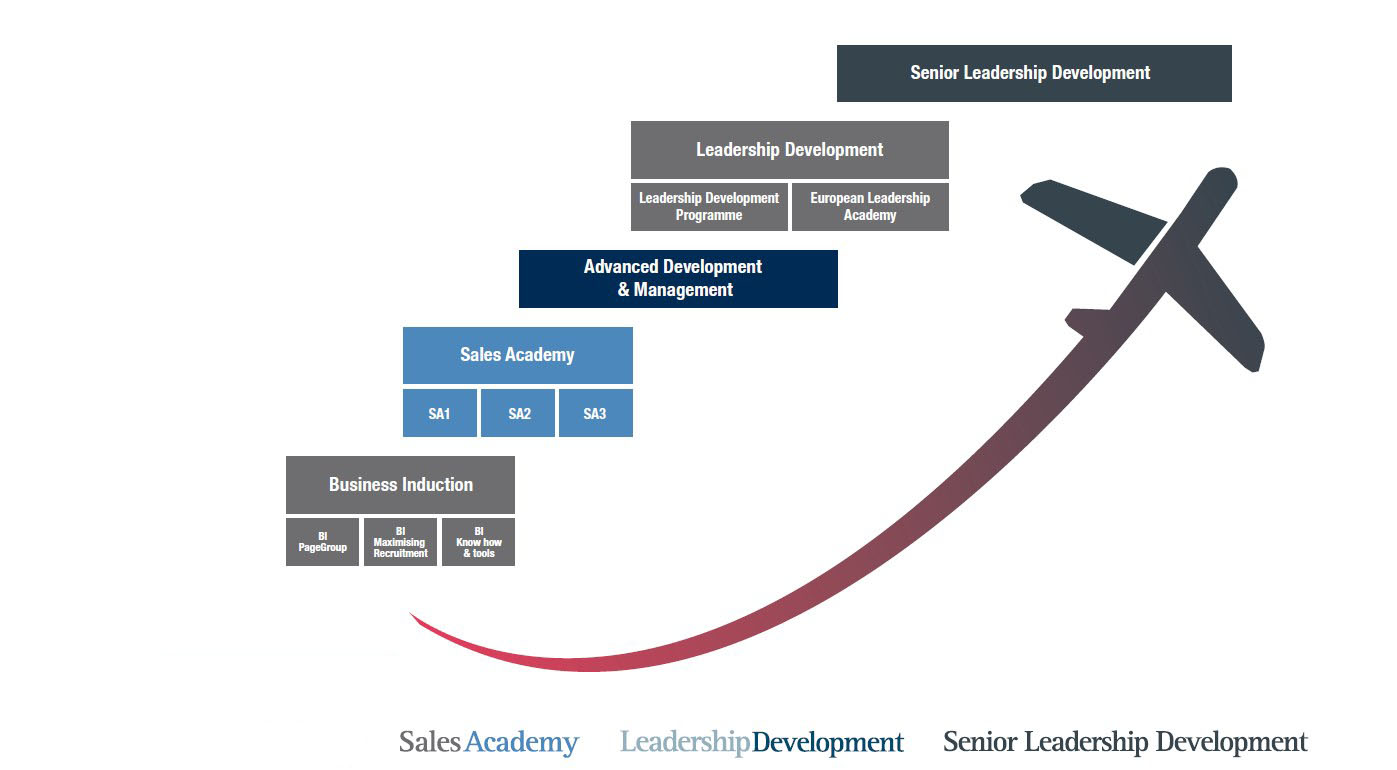 ---
Business Induction:
In your first month with us you will learn all you need to know to make a successful start with PageGroup. The Business Introduction Programme is divided into various modules, among them:
sales skills;
successful recruitment methods;
effective process- and relationship management;
market and sector information;
the history, standards and values, brands, departments and strategy of PageGroup.
---
Sales Academy
Sales Academy One
Once you have completed the Business Introduction Programme, you will be invited to Sales Academy One. Here you will learn:
the finer points of selling;
how to deal with complex situations involving clients and candidates;
and how to extend your network.
Sales Academy Two
Six months later you will be invited to join Sales Academy Two. Here you will use the skills and techniques acquired in Sales Academy One to look more in-depth at:
psychological aspects of sales and recruitment;
developing business with your clients by mastering techniques for asking the right questions.
On completion of the training, you will have acquired new skills and techniques. Everything you need to build lasting, successful relationships with your clients, create opportunities and optimise your sales pipeline.
Sales Academy Three
After two years in your role as a sales consultant you may be invited to Sales Academy Three: the secret behind the success of our most highly talented consultants. The precise content of Sales Academy Three stays behind closed doors until you receive the training. It is a unique concept, and the feedback from participants is fantastic!
---
Management Trainings
The success of PageGroup and our employees is linked to good management, leadership and coaching. In our step-by-step management programme you will learn how to develop and refine your skills for self-management, giving leadership and guidance to others and leading the organisation.
MDP 1
MDP 1 helps new managers with the transition to responsibility for a team. The course covers a variety of topics such as:
insight into the tasks and necessary skills of the manager;
building up a successful business;
bringing about real improvement in performance;
basic skills in the areas of coaching and time management.
MDP 2
After the first management module, the second module covers:
recruitment and selection of potential recruitment consultants;
effective assessment interviews and evaluations;
developing a vision that leads to strong involvement of your team;
insight into the importance of diversity and inclusion.
MDP 3
The third module is specially for managers with more than two years of management experience. By means of a variety of approaches, existing skills are further developed and deepened. We investigate how you can expand existing markets and develop new ones. And we address a number of challenges on the human front: what are the key motivating and demotivating factors for individuals, and how can you raise your people's performance to a new level?
Train the Trainer
This training is intended for employees who deliver in-house training. Here you will learn to impart effective training and inspire participants.
---
Leadership Development
Leadership Development Programme
For our experienced managers we have the Leadership Development Programme. Participants:
develop a view of good leadership;
are stimulated to attain that goal;
learn new practical leadership skills;
develop an action plan.
Leadership Academy
Senior managers are nominated to take part in the Leadership Academy. If you are one of the fortunate few, you will take part in a pre-eminent international training session. You will learn from the experience of colleagues from all over Europe.
Senior Leadership Development
Even our managing directors receive the necessary support in further developing themselves in their positions. In our Senior Leadership Development Programme members of management worldwide work on their leadership skills and business strategies. Thanks to our collaboration with a number of different business schools we offer excellent external training courses.
---
Expert Trainings
To our support employees we offer a variety of tailored training sessions and courses to develop the skills needed to be able to work successfully. Subjects dealt with:
Project management
Stakeholder management
Customer engagement
---
Ongoing Training
Practical training
PageGroup believes in the power of different sorts of training. Purely practical on-the-job training plays an essential role in our view. During your day-to-day work you will be accompanied by your manager and there will be ample opportunities for learning by doing.
360° feedback and coaching
A 360° perspective offers feedback from different angles; from your team and from your colleagues. Apart from that you will also have an assessment talk every six months with your manager. In that talk:
you will discuss your strong points and points for improvement;
you will evaluate progress against the objectives set and define new ones;
you will draw up a personal development plan for the following months.
The development plan, in combination with regular feedback, ensures open dialogue which will give direction to your career with PageGroup. In this way you will be able to develop the right skills and continue to progress in your career.