Thanks to excellent digital infrastructure, the Netherlands is one of the frontrunners in flexible working, which is one reason why the country is in the top 10 most interesting places for HR professionals.
HR is going through a digital revolution. According to the study Digital Workplace in Europe, an average of 38% of large European corporations have already digitalised a great deal of their HR processes. The Netherlands is already a European front-runner in the implementation of flexible workplaces. According to a study by research agency IDC, 67% of all Dutch companies have a Bring Your Own Device policy in place (BYOD), which allows employees to work from home. This percentage is much higher than the average of 50% for the rest of Europe.
One of the reasons is the well-developed digital infrastructure in the Netherlands. A recent report by McKinsey&Company used it as an example of one of the early adaptors of digital technologies. These developments make the country an attractive destination for HR professionals, and according to a survey by Michael Page the Netherlands rank 9th on the list of global hotspots for HR specialists. At the same time, there is a high need for good candidates. According to the latest results of Michael Page both the number of permanent and interim job openings in human resources are growing.

HR innovations: decoding facial expressions
A broad overview of the top 10 hotspots is made up of European and North American market economies, all with buoyant economies following the 2008 world crisis and well-established rule of law and commerce – making them desirable destinations for a mid-career change, or indeed a preferred place to start a career in HR.
In Europe, Germany is one of the leading countries. It´s therefore maybe no surprise that the global Theta Award 2017, for best idea in the world to improve HR and recruitment, was won by a German innovation. Andreas Kopp, a German graduate from Nuremburg won worldwide competition with a master thesis on a so-called facial action coding system may help recruiters decode the facial expressions of job candidates, to make better selection decisions.
The Theta Award was founded in 2013 in Germany, to help companies with new HR technologies. With the booming economy there is a high demand for good job candidates, and therefore for new HR techniques and strategies. It makes Germany one of the global hotspots for international HR professionals. Especially multinationals are developing more mature HR organisations and are focusing on enhancing HR data analytics capabilities.
Global methods of learning
The UK leads the design of digital strategies, but the migration process lags behind, possibly due to the large number of service companies which have slower uptake of SaaS due to their nature (employee heavy companies, less used to new disruptive technologies). Germany is a late bloomer in readying its workforce for the future of work – but is gearing itself to become a leading force when digital strategy becomes the norm across businesses and sectors.
Interestingly, it is companies in Europe that are leading the pack in terms of building the workplace of the future. In France, their openness to cloud-based computing in the development, marketing and HR sectors specifically (of the SaaS ecosystem 49.5% of are for these three areas), is a significant advantage. However, when it comes to supporting remote working or SLA-based delivery, there is a long way to go.
A globally challenging sector
HR methods in different markets are changing around the world, and none more so than in Latin America, where exposure to international project and companies, new and challenging stakeholders, alongside new working environments and improved understanding of best practices, has brought about a revolution in the region.
There are strong and noticeable differences in the HR department focus and experience across the whole of Latin America. Brazil has enjoyed a long-term, strong relationship with unions and vast employee relations due to this, whereas in Argentina, HR directives have emphasised in-house talent management, learning programmes and talent acquisition.
What we saw in Asia a decade ago, will now happen in Latin America – the establishment of regional hubs, the emergence of key players with improved economic performance compared to regional competitors, and a refocus of hiring patterns and methodologies to ensure local talent takes up senior management roles.
Ranking global hotspots for HR professionals
For Trend Watch PageGroup surveyed 18352 job seekers worldwide, who applied on our Michael Page and Page Personnel websites during the 3rd quarter of 2017.
Of the 1195 HR professionals who participated in the study, more than 65% were willing to relocate, for job opportunities, a better salary or a different lifestyle.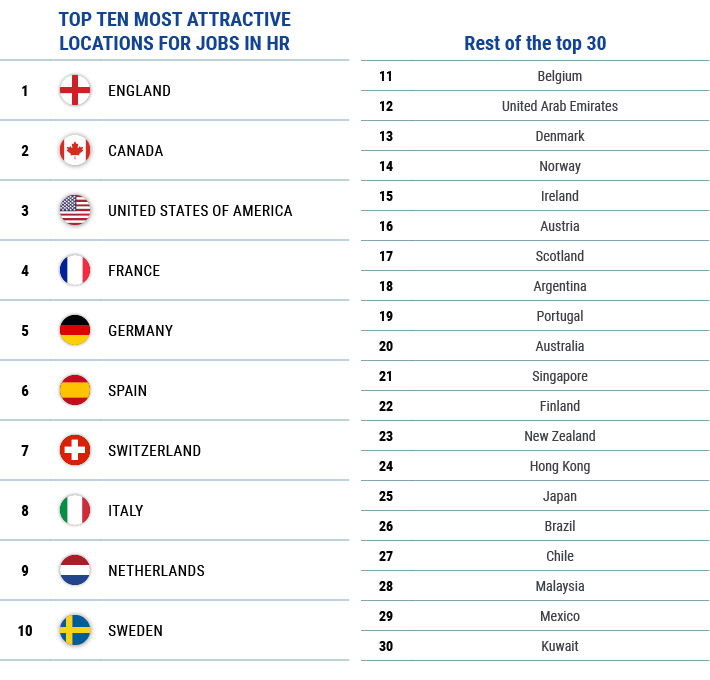 Find out more about the other sector trends:
Are you hiring?
Would like to talk to us about your recruitment needs?
Contact us
Are you looking for a job?
Find the best offers on our website.
Apply now
Salary Survey
Key insights on salaries by sectors and market trends.
Discover more